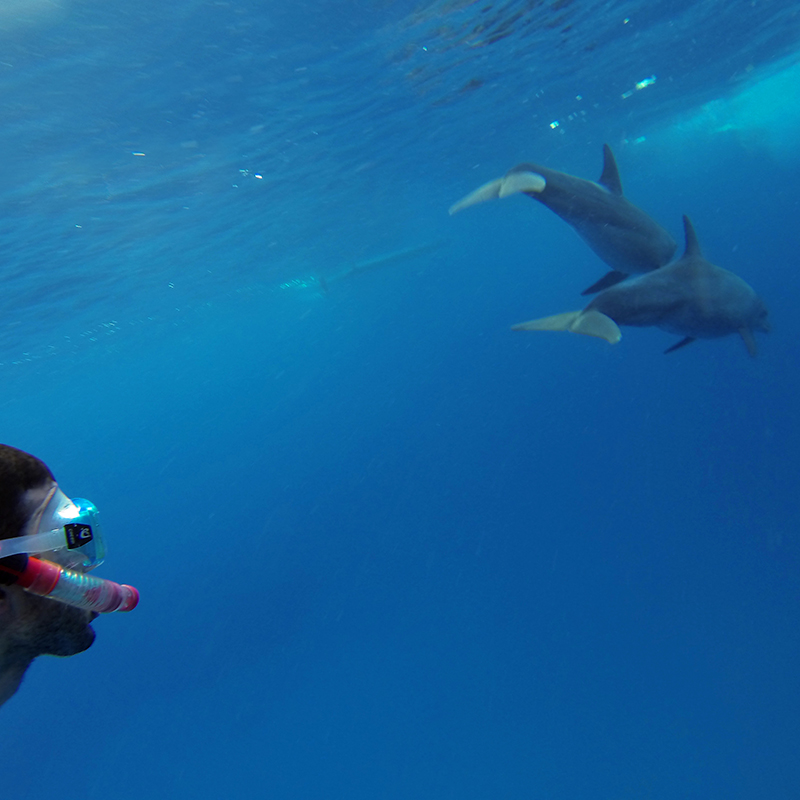 Dolphins in the natural environment
Dolphins in the natural environment
It's an early morning. They have informed you to be ready for a pick up right at the sunrise. It is around six in the morning, still half asleep, you are getting yourself into the van.
A half an hour drive away, through the hilly landscape with only palm trees and red soil fields around, you will arrive to Kizimkazi, a small fishing village right at the end of the road. Every morning, fishermen gather here at the local fish market to sell and trade all their catches to the local people or businesses. After your adventure at the ocean, you will be able to buy fresh fish at the local fish market, which we, the staff, may prepare for your dinner at the open fire next to your villa.
As you sit on a boat, your captain will direct the boat up south, where the biggest groups of dolphins gather at that time of the day. Do not make yourself impatient, it is up to those lively mammals if you are to travel shorter or longer route. However, the moment you see them, swimming in pairs or with the little ones, it will take your speech away and bring your heart beat up. They are moving so gracefully onwards and around, keeping close to the others.
You will see them up and above, jumping, squeaking, playing. For those who are good swimmers, the captain will allow to jump in and enjoy the up-close meeting. It is truly one of those lifetime experiences. An eye to eye meets, where you can admire dolphins in their day-to-day environment. The turquoise water, first flairs of sun and THEM, it cannot get more magical.
Filled with new experiences, but with a slightly hungry stomach, you will return to the villas, just in time for second breakfast. Believe us or not, there is nothing better for your appetites like a bit of adrenalin and the salty fresh air.