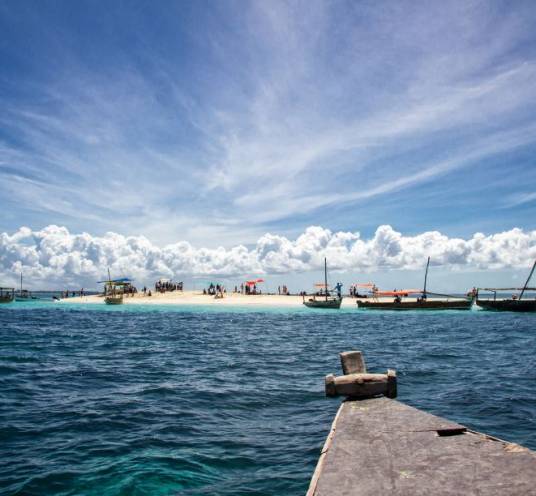 Blue Safari for water enthusiasts
Blue Safari for water enthusiasts
Zanzibar is definitely one of the most compact, exotic destinations you can choose for your long-awaited vacation. It is an island of many faces, offering a variety of activities for each and every one of you, visitors. Among the list, you will find a Blue Safari tour, which is a must go for all of the water enthusiasts.
Blue Safari is a day-long trip, where you will get one of a lifetime opportunity to see and explore remote places of Zanzibar. It all begins in the morning, with a 40-minute transfer to the boat at the azure lagoon of Kiwani Bay. As you meet your captain, you will be set off to see the most spectacular side of Zanzibaris nature. 
You will get to stand on a remote island, covered in the white sand surrounded by the crystal-clear water in all shades of blue. Catch and hold for a while different kinds of starfish, crawling around in the flat waters. While you feed your eyes with stunning surroundings, we get you fed with a plate of fresh local fruit and prepare you for the next stop of the day.  Snorkeling base is situated just in your sight. Your boat will be anchored at one of those azure spots, you have seen from the sandbank. While you dive in, the whole new world appears to you, filled with the wide variety of colorful fishes, moving around the coral reef just beneath your feet. Such an amazing feeling. After around half an hour in the water, you will move again, towards Kwale Island. There, delicious plates of seafood await you for lunch. 
After dinner, you will be granted time to explore the island and visit the local market.
However, mind the time that you have been given. As the high tide approaches the island, we will need you to board the boat again. While the captain moves the boat towards land again, you – full on the stomach and tired on the head – will be entertained by singing Swahili songs. Even though you think, the lyrics will not be familiar to you, you will catch up quickly, and smiles and laughs will be brought on faces of everyone onboard.