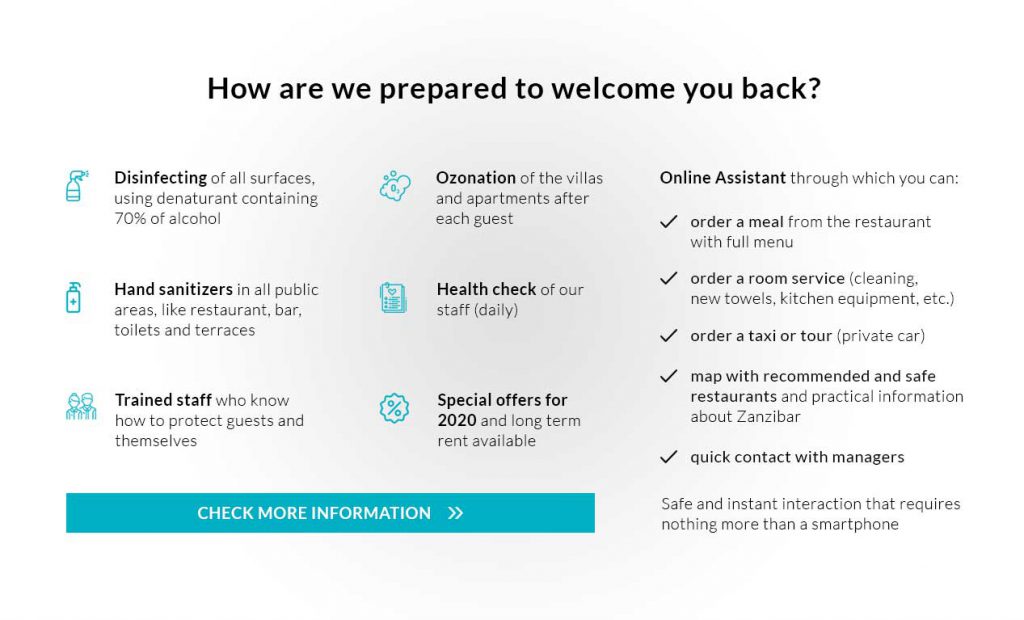 Our way of life has changed dramatically over the past few months, as we continue to face the challenges that COVID-19 brings. Yet despite the adverse impacts, we feel greatly inspired by the different ways people around the world are adjusting and supporting each other with immense optimism – as we are all doing at Jambiani Villas, in preparation to welcome you back.
For now, We would like to update you on the new health and hygiene initiatives we have developed to give guests peace of mind about future stays, our community projects that are helping those most in need, and the extra flexibility we are offering with all new reservations so that you can book with confidence.
Stay With Peace of Mind
The welfare of all our guests and team members is of the utmost importance, and at Jambiani Villas, we are busy implementing new health initiatives for when boarders are reopened and we are once again able to welcome you.
While all hotels adhere strictly to local government and World Health Organization guidelines, Jambiani Villas new Stay With Peace of Mind programme features trained staff with heightened cleaning and hygiene measures in compliance with industry experts.
Elevated sanitation includes approved disinfectants for use against COVID-19 and other bacteria. This extra sanitisation extends from all guest areas to supply chain deliveries, culinary preparation areas and housekeeping procedures. Guest wellbeing throughout their stay is also being enhanced by limited contact, social distancing and private experiences – from private airport transfers, check-in procedures, in-room dining and private tours and excursions.
We utilise an online assistance software which allows guests to stay in contact with staff members without having to leave the confines and comfort of their villa/apartment.

Community Projects
Many of our hotels in the area are supporting their communities during these difficult times. We, here at Jambiani Villas, in co-operation with the village elders, are providing soaps and masks to the surrounding village.
Book With Confidence
During these challenging times, we are offering extra flexibility and support for all new reservations made.
Best Flexible rates: Free change of date up to 1 week prior to arrival, for stays completed prior to 20 December 2020. Subject to availability.
Special offers for 2020: Long term rentals available.
If you need to make or adjust a reservation, please call our team +255 776 944 970 or email [email protected] and we will be happy to assist you.
Welcome Back
As we envision and hope for a brighter, freer future and look forward to welcoming you back with our friendly hospitality and personalised